Whether you are a beginner or an expert at cross country skiing, a skate-skier or prefer a traditional groomed Nordic track, Door County has it all. In Sturgeon Bay, just head north on Joliet Avenue and turn right on Duluth Avenue. At the end of the road is a secret entrance to "Pot Park," as locals call it.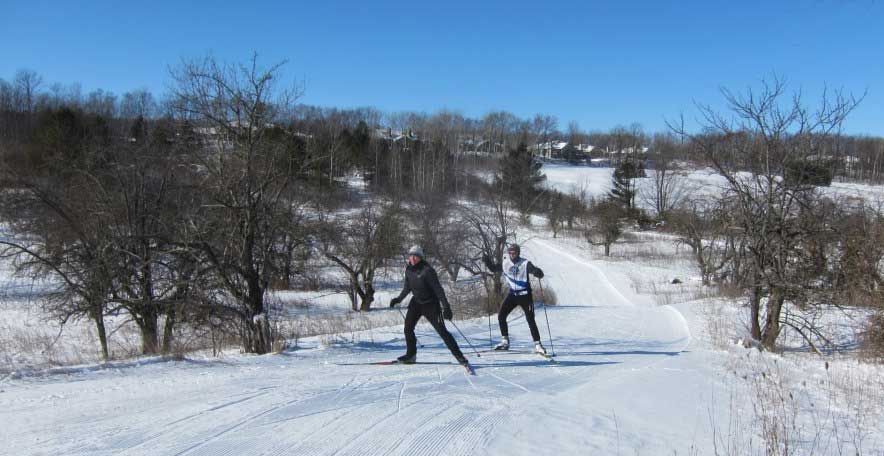 Potawatomi State Park has 9 miles of classic cross country groomed trails and if you like the faster paced skate skiing, there are 8 miles of skate-groomed trails in this park just 1.5 miles from Lily Pad Cottage and Eagle View Suite. The trails start close to the picnic shelter, where there is also water and toilets available. People who are visiting to snowshoe can explore most of the park as long as they avoid the groomed winter ski trails.
Crossroads At Big Creek offers five miles of ski trails for cross country/ Nordic skiing with both classic and skate lanes. Trail usage is free, but donations are welcomed. There is a contributions box at the trail head. Two miles of separate hiking trails are provided for snowshoe enthusiasts. Snowshoes can be used off-trail.
Ida Bay Preserve is ideal if you want some some solitude, compared to the groomed trails of other cross country skiing venues. You may need to cut your own ski trail, but the scenery is beautiful after a fresh snowfall. The trails are open to hikers, skiers, and snowshoeers.
Ski and Snowshoe Rental:
Bay Shore Outfitters in Sturgeon Bay offers daily cross-country ski and snowshoe rental needs, and also has equipment, clothing and accessories for purchase.
Crossroads at Big Creek offers free ski rentals on Thursdays, Saturdays and Sundays: 1:00 – 3:30 (when snow is adequate) and is sponsored by Friends of Crossroads and Door County Silent Sports Alliance. Rental sizes range from age 3 through large adult. When trail conditions permit, volunteers at the Crossroads Maintenance Building will fit you with equipment, share a few instructional pointers and a provide a trail map for the groomed (classical and skate) ski or hiking trails. Hot Chocolate will be waiting for you when you finish and return your equipment.
There are always new places to ski in Door County, feel free to email or call me with your questions.